Do you have to be trained to use a defibrillator (AED)?
Some people believe that you can only use a defib when you are trained to do so. Some people think they are very complicated devices that allow you to 'shock' someone that doesn't need it.
This is not the case, a defib is a very clever device that will often give verbal instructions to you and sometimes various images to tell the rescuer what to do and in the right order. To prove this Mike Taylor decided to try this out at two networking events.
The first was at BforB Sandbach, where Mike was ably assisted by Iain Smith of RBS. Iain had never had any CPR or first aid training and had never touched a defib before. As you can probably see from the photo below, Iain was a little apprehensive when he was first 'volunteered' by the rest of the group.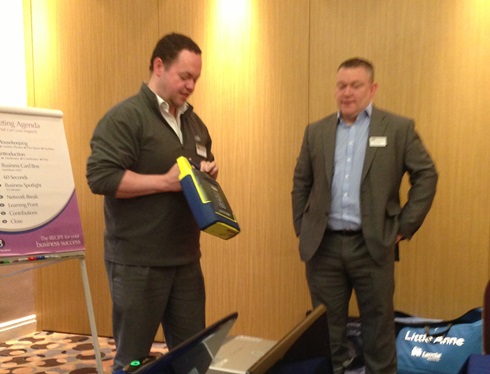 Iain was given a brief introduction to the task, along the lines of 'this is a defib, the guy on the floor is not breathing. Go!'
Iain got to work using the defib, following the verbal instructions given by the device that told him exactly what to do and only moved on to the next step when 'it knew' he had completed the current step. Iain did a great job and delivered the first shock in 1 minute 10 seconds.
Speaking to Iain afterwards he said that it was much easier than he thought it would be to use. Especially as the machine shouted instructions at him and he would now be much more willing to 'have a go'.
The second demonstration was made at MBusiness, the volunteer this time was Judith Richardson of Qube Solution Services, again never used a defib before. She was given very similar instructions to Iain, i.e. not much. She quickly got to work following the instructions of the defib and delivered the first shock in 1 minute 8 seconds. Speaking with Judith afterwards, she made similar comments, that it was much easier than she thought to use a defib.
A massive thanks goes to Iain and Judith for taking part in this demonstration without any warning and being put on the spot as would likely happen in a real situation. Congratulations to the both of them for being calm, collected and delivering a 'simulated shock' in a short space of time.
If you would like further information on defibrillators or defib training, please follow the link below or get in touch.
If you would like this presentation to be given at an event of yours, please get in touch.