See on Scoop.it – First Aid Training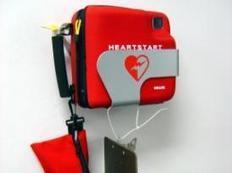 Health industry's defibrillators would go ignored in a genuine emergency, survey finds
A new survey reveals that many dental practices are without key lifesaving equipment.
More than half of the staff polled were unaware if their practices were kitted out with a defibrillator.
Dentistry figured among the health industry survey which also highlights a need for more education to rid misplaced fears about misuse.

The survey shows that 54% of staff in workplaces such as dental surgeries and GP practices stated that their premises either do not have, or that they are not aware that they have, a defibrillator.
Of those questioned that do have defibrillators, 36% do not know how or would not be confident enough to use it.

This raises fears that this emergency heart equipment may not be used in the places where it is most needed.

Vincent Mathieu, managing director of DOC UK calls for more education for health service providers: "With 124,000 heart attacks a year in the UK touching people of all ages and physical conditions, defibrillators are essential equipment – and you expect the health industry to set the gold standard. However, defibrillators do no good if they are not used. It's vital that companies within the health industry sector have an on-site defibrillator that their staff will be confident to use in case of an emergency."

The survey indicated that the general apprehension about using emergency equipment is based on risks that do not exist. For instance, a defibrillator will only work on someone who is having a genuine cardiac arrest. 48% per cent of respondents were concerned about injuring the casualty or being held liable if something went wrong. This is alarming as the equipment will only function on people who are having a cardiac arrest, and there have been no cases of people being sued for using a defibrillator.

Dr Stephan Van Wyk, a dentist at The Bridge Dental Centre, East Twickenham, highlights the importance of defibrillators in dental practices which are high stress environments.
He said: 'Although we are not required to have a defibrillator at the practice, it is a recommendation for dentists and regarded as best practice. We hope that we never have to use it, but we see having the defibrillator as an extension of our customer service, it's an added extra to help make our customers feel comfortable and reassured.'

DOC's defibrillators work by connecting the user to a call centre staffed with medically trained personnel who guide the user through the defibrillation process, removing the need for training, and removing the fear factor should an emergency occur.
See on www.dentistry.co.uk