See on Scoop.it – First Aid Training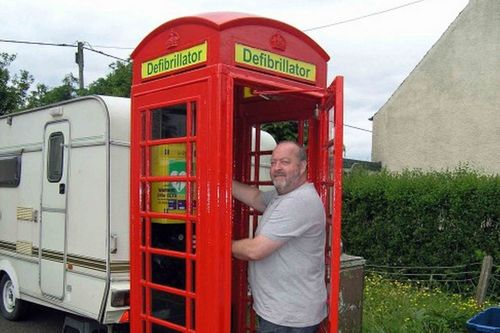 A DEFIBRILLATOR has been installed in a rural red call box after locals bought the kiosk from BT for a pound.
AN old phone box has been transformed into a potential lifesaver after being purchased by villagers for £1.
A defibrillator, which gives the heart an electric shock in some cases of cardiac arrest, has been installed in the red call box.
And as the nearest accident and emergency department is 20 minutes' drive away, the machine could mean the difference between life and death.
The call box in Arnprior, Stirlingshire, was bought by the community from British Telecom under the company's Adopt a Kiosk scheme.
Funding for the defibrillator came from various organisations, including Stirling Council and the Sandpiper Trust, who aim to provide Scotland's rural doctors and nurses with emergency medical equipment.
A BT spokesman said: "We're very pleased to hear that the villagers of Arnprior have found a new lease of life for one of our old, rarely used boxes.
"Over the years, many people have described their local phone box as a lifeline. Now that everyone has a phone at home or a mobile, that's no longer true.
"But kiosks fitted with defibrillator machines could be real life savers for the community in the future."
The Scottish Ambulance Service and the Community Heartbeat Trust, a charity dedicated to the provision of defibrillation services to local communities, gave their help to the project.
Backing also came from the community council and Stirling Council's Community Pride fund. Villagers were given advice and training on how to use the defribillator.
And children from the local primary school will be on hand to help open the lifesaving installation on Monday.
A spokesman for the Sandpiper Trust said they were delighted to have been involved in the Arnprior project.
He said: "It has become increasingly clear over the past decade since the trust was set up that working together with all these organisations is what saves lives.
"We are also pleased that the children of Arnprior School have been involved in this project."
More than 100 traditional red kiosks in Scotland have been adopted by their local communities for £1.
Arnprior is the second community in Scotland to have a defibrillator fitted in their call box.
Glendaruel Village, Argyll, was the first in 2011.
See on www.dailyrecord.co.uk