See on Scoop.it – First Aid Training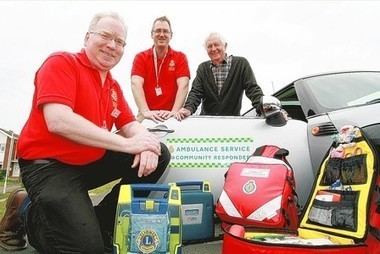 A MAN who spearheaded a campaign to purchase defibrillators for use in and around East Grinstead has remarkably had his own life saved by one of the devices.
Jim Miller admits he would be "six feet under" had it not been for the shock he received from one of the machines following a recent heart attack.
The 82-year-old helped to raise enough money to fund three new defibrillators in his role as a volunteer for East Grinstead and District Lions Club back in 2010.
The club purchased the devices to be used by first responders – people living within communities who attend local medical emergencies while paramedics are still on their way.
And another defibrillator, at East Surrey Hospital, ended up saving Jim's own life on March 18.
He said: "I had some discomfort in my chest and I thought it was heartburn.
"I was taken by ambulance to East Surrey Hospital and they were about to send me home. I went to use the phone to tell my wife the good news and that's the last thing I remember. The next thing I knew, I was surrounded by all these people telling me to stay calm and not to move."
Coincidentally, another East Grinstead resident with close links to the lcoal Lions Club also had his life saved by a defibrillator after he suffered a cardiac arrest in February.
Gordon Gould, who runs the charity's website, collapsed at his doctors' surgery, but was resuscitated immediately and transferred to St George's Hospital, in Tooting, by ambulance.
He said: "Defibrillation needs to be applied very quickly, because for every minute that a person is in cardiac arrest before defibrillation, their chances of survival are reduced by about ten per cent. First responders are local volunteers, trained in lifesaving skills and in how to use a defibrillator, and can often get to a scene quicker than an ambulance.
"I am so grateful that a defibrillator was available to save my life, and the more first responders with defibrillators there are, the more lives will be saved."
The defibrillators funded by the Lions in 2010 have been made available for use by first responders in East Grinstead, Lingfield and Dormansland.
Jim, of Fulmar Drive, East Grinstead, said: "The idea is to have a first responder available within eight minutes of an incident. These are people who are trained to use defibrillators and without them, I would be six feet under.
"They saved my life and they saved Gordon's life."
Lifesaving training for first responders is provided by the South East Coast Ambulance Service (SECAmb), though the service admits it does not currently have the funding to support new volunteers. Instead, SECAmb is keen to raise awareness and money for the service.
First responder Richard Herbert, from Dormansland, said: "As first responders, we're not just there for heart attacks. We help with anything an ambulance can help with, such as first aid, cuts and breakages."
Read more: http://www.eastgrinsteadcourier.co.uk/Volunteer-launches-campaign-purchase/story-20894032-detail/story.html#ixzz2yrpyRAVt