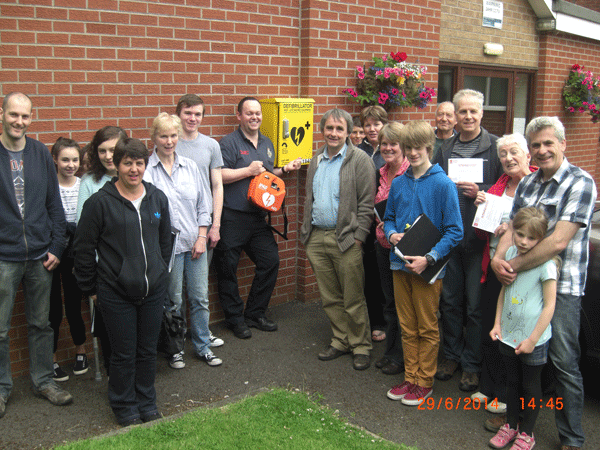 Residents from the Fulford and district area attended a free, two hour Heart Start & Defibrillator awareness courses on Sunday 29th June 2014.
They learnt vital lifesaving skills, which could help keep a person alive until medical help arrives.
The course was provided by Mike Taylor (of Abacus Training), David Thomas and Mel Avis, who are all volunteer responders with the Fulford & District Community First Responder charity. 'Heart Start' is a national scheme that is being supported by the West Midlands Ambulance Service across Staffordshire, in association with the British Heart Foundation.
Mel Avis explained,
"24 local people were trained in basic life saving skills today. Our aim was two-fold: to raise awareness of the Community Public Access Defibrillator that has recently been installed at Fulford Village Hall and to teach skills that could make an enormous difference to saving someone's life. It was a great success!"
Acting quickly when someone is in cardiac arrest is crucially important. Early CPR and Early Defibrillation significantly increase a person's chance of survival. People should not be afraid to learn how to use a cPAD. They are designed specifically for use in community settings and provide a series of voice prompts and illuminated illustrations to guide the rescuer.
"Any initiatives, whether it's community life saving training or new devices such as the cPAD, are welcome additions to our local communities, saving vital minutes whilst the ambulance service arrives, especially in rural villages."
says Mike Taylor (of Abacus Training).
"The course was excellent and I now feel confident that I could deal with an emergency while waiting for the professionals to arrive…. If you get the opportunity then get trained up!"
says participant, Sarah Cox
"Training was excellent, easy to understand and remember. Do it and be useful to someone who may need your help."
says participant, Jacqui Leach
For more information about First Aid courses or the Heart Start scheme, please contact: Mike@fulfordanddistrictcfr.co.uk or visit www.abacustraining.co.uk
Special thanks to:
The Fulford Village Hall cPAD has been part funded through a scheme with the British Heart Foundation. However, it would not have been at all possible without the support and fundraising efforts of a lot of local organisations, groups and local individuals. We would like to extend special thanks to: The Cheadle Round Table, Blythe Bridge Rotary Club, Fulford & District Community CFRs, the Fulford Village Hall Committee, Mr & Mrs Ostrouchow, Mr C Bloor, Ms J Lawton, Mrs W Godfrey and Mrs J Tarr, Headteacher at Fulford Primary School.
About Fulford & District Community First Responders:
Fulford and District Community First Responders are a busy and dedicated group of volunteers who have responded to over 2000 emergency calls with the West Midlands Ambulance Service, since the group formed in July 2008. We run weekly pub quizzes to raise money for our charity, please check our Facebook page for details and come along! If you are able to make a donation or host a fundraising event for us, please contact Chad Bloor (Group fundraiser) 07535313132 or David Steele (Group Coordinator) 07946185945.
Fulford & District CFRs can be followed on Facebook and Twitter @FulfordCFR
Source: www.stonegazette.co.uk