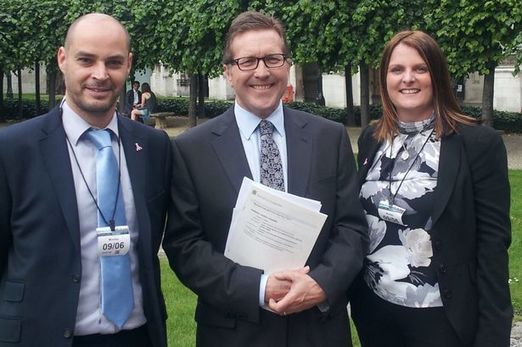 Stockport charity set up following baby's death organised petition which received 102,000 signatures and led to a House of Commons debate
A government minister has promised a national review into the provision of paediatric first aid in nurseries after a campaign by Stockport charity Millie's Trust.
Joanne and Dan Thompson set up the charity after their nine-month-old daughter Millie died in a choking incident at a Cheadle Hulme nursery.
A petition they started which called on the government to change the law to make it compulsory for all nursery workers to be trained in paediatric first aid received more than 102,000 signatures.
Yesterday, their cause was discussed by 20 MPs at Westminster in a debate led by Cheadle MP Mark Hunter.
Parliamentary under-secretary of state for childcare and education, Sam Gyimah MP, promised a review to include a wide consultation of pre-schools on their practices, and what checks there are on first-aid training providers.
Joanne, 29, from Bramhall, said: "We are pleased that this legislation has been debated, and as far as we are concerned this is a positive outcome.
"We have known from the beginning this was never going to be an easy road.
"This has just been another stepping stone and we were encouraged by the fact the government want Dan and I to take part in the national review, and we will keep fighting on behalf of parents."
Mr Hunter added: "It is great news that the government will have an official review on current policy and this will give us a real opportunity to change the law.
"I know that Millie's Trust and all their loyal supporters will join me in taking the opportunity to input into the review and ensuring that the case for change is unanswerable.
"I look forward to hearing from the minister about the finer details of the review."
Millie's Trust aims to raise awareness of paediatric first aid training and to fund training for the parents and carers of children who might not be able to afford it.
It has trained 7,000 nursery staff and parents, and saved more than 100 lives.
Millie died at Ramillies Hall School nursery in October 2012 and an inquest heard the nursery supervisor looking after her did not have a current first aid certificate.
Last week, it was announced that ambulances around the country will need to carry a paediatric kit following a recommendation from the coroner at Millie's inquest.
Source: www.manchestereveningnews.co.uk
See on Scoop.it – First Aid Training