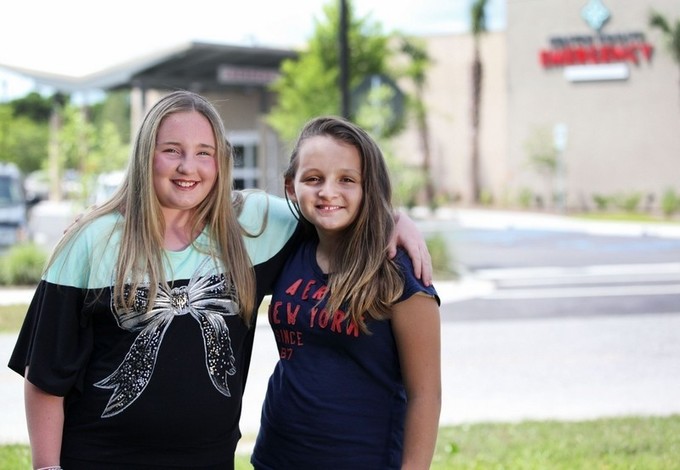 It started off like any other normal after-school afternoon.
Skylar Mills and Katelyn Palmer were playing outside in their Goose Creek neighborhood. It was mid-May, just weeks away from the academic year's end at Westview Elementary.
The girls were sharing powdered doughnuts, those white-sugar and refined-flour sweets from a paper Hostess bag. But then, Katelyn started panicking. She couldn't talk or breathe. A piece of the doughnut was lodged in her throat.
Skylar jumped into action. She stood behind her friend, wrapped her arms around Katelyn's torso and performed the Heimlich maneuver to clear her airway. The doughnut popped back up and Katelyn spit it out.
"I guess I didn't chew it down all the way," the now-11-year-old said. "I was kind of, like, terrified, but I went back inside and got some water."
Lucky for Katelyn, Skylar is a trained lifesaver. The Heimlich maneuver wasn't some cool trick she picked up from an episode of "Grey's Anatomy" or "Trauma: Life in the ER," two of her favorite TV shows.
Skylar, only 10 years old at the time, happens to be the youngest student ever trained in the technique through one of Trident Health's community education classes. She completed the three-hour first-aid and CPR course last fall.
She never anticipated she would need to rely on that training in real life, but as soon as Katelyn couldn't breath, Skylar said she knew what to do. "I went behind her and started squeezing her stomach like they told me to do at the Trident Medical Center," she said.
More than 12,000 children are treated each year in hospital emergency rooms for non-fatal choking episodes, according to a study published in 2013 by The American Academy of Pediatrics.
"Improved surveillance, food labeling and redesign, and public education are strategies that can help reduce pediatric food choking," the report's authors wrote.
Those tips could save lives. The Centers for Disease Control and Prevention estimate nearly 60 children die from choking each year.
Katelyn didn't go to the hospital, in fact, her mom had a hard time believing her story at first, but the scare underscores how basic first aid techniques sometimes make the difference between life and death. Permanent brain damage from choking sets in within four to six minutes.
The National Safety Council says 25 percent of all trips to the emergency room could be spared with basic first aid and CPR certification.
Skylar's mom, Jewel Baker, said her daughter willingly signed up for the class at Trident Medical Center because she's always been interested in emergency medicine.
"She always asks me about my day," said Baker, a nurse at Centre Point Emergency in North Charleston, which is owned by Trident Health.
Baker said $20 seemed like a small price to pay for the hospital's first aid course, which is offered periodically throughout the year. Baker figured it might come in handy when Skylar starts babysitting.
"She said she wanted to do it. I said as long as she could perform the skills, she could do it," Baker said. "I dropped her off for three hours and I came back. They thought she was older than 10."
The instructor couldn't believe how young Skylar really was, Baker said. "She said she was amazed that she's only 10 and she could do it."
Despite the events of that dramatic afternoon last month, Skylar and Katelyn look like their lives have returned to normal. In fact, they recounted their story to The Post and Courier with typical tween nonchalance.
Katelyn admitted she might want to take a first-aid class herself. She worries she wouldn't know what to do if her little brother ever started choking.
Skylar, meanwhile, has her sights set on a long-term goal.
"I want to be an emergency surgeon doctor."
Sourced through Scoop.it from: www.postandcourier.com
See on Scoop.it – First Aid Training