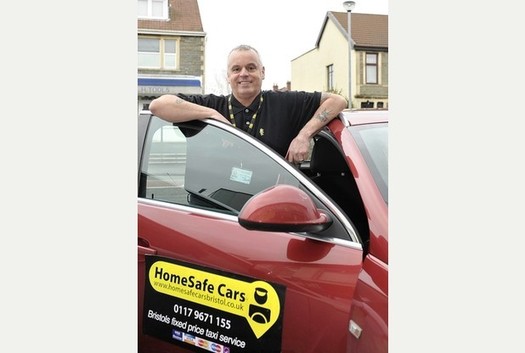 When taxi driver Dean Clarke picked up his last fare on Saturday night, he never imagined by the time the journey ended he would have saved a life. But when a 76-year-old passenger collapsed and began having a heart attack, his instincts kicked in along with advice picked up from an advertising campaign.
Mr Clarke, who has been a taxi driver for Bristol-based Homesafe Cars for two years, administered emergency CPR to John Alexander for 20 minutes, despite having no previous first aid experience. And the technique he used to save his passengers life were gleaned from watching a campaign backed by soccer hardman Vinnie Jones. In the Staying Alive advert the footballer turned actor demonstrates how to administer CPR accompanied by the Bee Gees' hit of the same name.
The 54-year-old was helping the man and his wife out of the taxi outside their Hanham home after they had been to a pub in Cadbury Heath celebrating their son's birthday. Mr Clarke said: "As I helped the man out of the car, he collapsed back. It was really frightening, I rang an ambulance and told them what was happening. They talked me through some basic CPR and I just had to keep his head back and his airways open.
"I had never done CPR before, the only knowledge I had of it was from the Vinny Jones' CPR videos. The man on the phone was great, if it wasn't for him I wouldn't have been able to do anything." Mr Clarke also rang his colleague to go back to the pub and pick up the man's son. After 20 minutes, an ambulance arrived to take the man to hospital where he was treated.
Paramedics told Dean if it wasn't for the CPR he administered, the man may not have survived.
He said: "They said I helped save the man's life, but if it wasn't for the people at the end of the phone talking me through I wouldn't have been able to do any of it, so I owe it to them really. I'm just so glad to hear the man is ok, miraculously he is out of hospital already and doing well I hear so that is all that matters. I was very anxious on Sunday until I heard he was OK. I don't feel like I've done anything out of the ordinary, I was just doing my job and what anyone would have done. But it was a very frightening experience and I'm just glad it has been a positive outcome."
The manager of Homesafe Taxis Mark Horman said: "It's amazing really what he did and we are very proud to have him as one of our taxi drivers. He went above and beyond and we are just pleased that the man is OK and out of hospital. His family have been in touch with us through our Facebook page and have thanked us." Aide White said on the Facebook page: "Thanks guys, this is my father-in-law of 35 years. You lived up to your company's name, Homesafe. You did a great job."
Daughter Louise White said: "Thank you very much this customer is my Dad we have just picked him up from hospital and apart from bruising and a chest infection he is OK as a family we can not thank you enough. My mum and dad will be in contact with you soon thanks again.
Sourced through Scoop.it from: www.westerndailypress.co.uk
See on Scoop.it – First Aid Training