What Happens When I Text 999?
Whether you are a person who is Deaf, hard of hearing or non verbal; if it is unsafe or difficult to communicate verbally or you are in a location with a poor signal in the UK. Texting 999 can save a life.
Register Your Device
To use the service you must register your mobile first, by texting the word 'register' to 999. If you have changed your number since registering, you'll need to register your device again through the same process.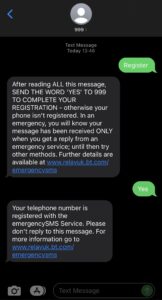 Once you have text 'register' you'll receive an automated text, you should then follow the instructions and your mobile will be registered.
How Do I Text 999 In An Emergency?
When messaging 999, you should contain the details as listed below:
The Service You Require: 'Need (Coastguard, Ambulance, Fire or Police)'
A Brief Description Of The Event: 'Casualty broken leg after fall'
Include Your Location: 'Outside post office, Stone Rd Stafford'
If you are in a rural location or it is difficult to give a precise location, you can use What3Words or OSLocate. These are apps which are available to download for free on your device and will give the emergency services your precise location. They can be used even if you don't have any data signal.
Include Your Location: 'My what three words location is forest.clocking.flagged'
For more information about us or our courses visit Abacus Training