This market leading and highly innovative Blended First Person On Scene course is approved by Edexcel and endorsed by the Royal College of Surgeons, Faculty of Pre-Hospital Care (Edinburgh), the leading clinical body for pre-Hospital Care in the UK.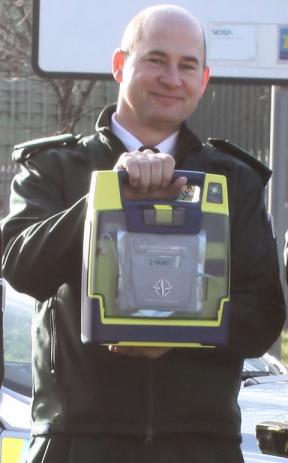 We pride ourselves on excellence and this course is Directed and run by the Paramedic who helped to develop the original course with Edexcel.
It's important that you can trust and gauge the credibility of your FPOS training team and ours is made up of only the best. Our tutor team are highly experienced healthcare providers. They include Paramedics and Nurses with in depth intensive care/therapy experience. They excel in sharing their experiences, advice and knowledge with you.
You will learn the necessary skills associated with rapid patient/casualty assessment, treatment, stabilisation and transfer of both the trauma and critically ill medical emergency patients. We would be happy to discuss the complete course content with you and adapt it to meet your needs.

As an overview, the main topics covered include:
The pre-Hospital Environment (including minimising the risk of infection)
Patient Assessment
Respiration and Airway Management
Basic Life Support and Automated External Defibrillation
Circulation and Shock
Trauma Related Emergencies
Medical Gases
Use of oropharangeal airways
Heart rhythms
Use of the bag, valve, mask
Blended Learning
You will complete this course by carrying out a theoretical knowledge element via our high quality learning management system. This equates to approximately 5 hours of learning. When this is completed you will attend our training centre for 2 days to undertake the essential skills training, patient contact scenario sessions and final written assessments.
It doesn't stop there! Having been trained by our practitioners we treat you as one of our own. You will have ongoing access to your instructor and assessor after qualifying, should you need any support or guidance.
The course is approved by Edexcel and is IHCD managed. It is also endorsed by the Royal College of Surgeons, Faculty of Pre-Hospital Care.
There are no prerequisites for this course – anybody with a desire to learn the skills is welcome to attend.
The course includes a comprehensive handbook, 9 months access to online learning materials, assessment by an independent examiner and certification.
Who should attend?
There are no prerequisites for this course. If you want to learn, we want to teach you.
This course has been produced for Co-Responders; Police, Fire, Mountain Rescue; senior cabin crew; industrial First-Aiders, close protection officers and those with an interest in pursuing a career in the professional ambulance service. If you fall in to any of these categories, this is without question the course for you. The First Person On Scene Intermediate course is also designed to enhance the skills of all qualified First Aiders.
FPOS courses are recognised by many professional ambulance services across the UK. If you are thinking of becoming an Ambulance Service First Responder or indeed Paramedic, then this could be the course for you. Call us now so we can give you the very latest course information.
Course dates
When: 7th and 8th April 2013
Where: North Staffordshire
Cost: £478.80 per person
Course duration and assessment
Assessment of the skills learned will be undertaken by an independent examiner.